Family project
Start by saying "we're going on an adventure together", as opposed to "I'm taking my children on a hiking trip." Allow the kids to take part in the planning – let them have a say in everything from what you'll be doing to what they can bring, like clothes, books, toys, and food.
Preparation for anything
Always make sure to pack the 10 essentials- survival items that hiking and Scouting organizations recommend for safe travel: navigation, headlamp, sun protection, first aid kit, knife, fire, shelter, extra food, extra water, extra clothes. Additional kid-friendly supplies are: wet wipes or tissues; lip balm; binoculars; magnifying glass; field guides (to point things out to kids); camera; and safety whistles for each child (and teach them what they are for and when to use them).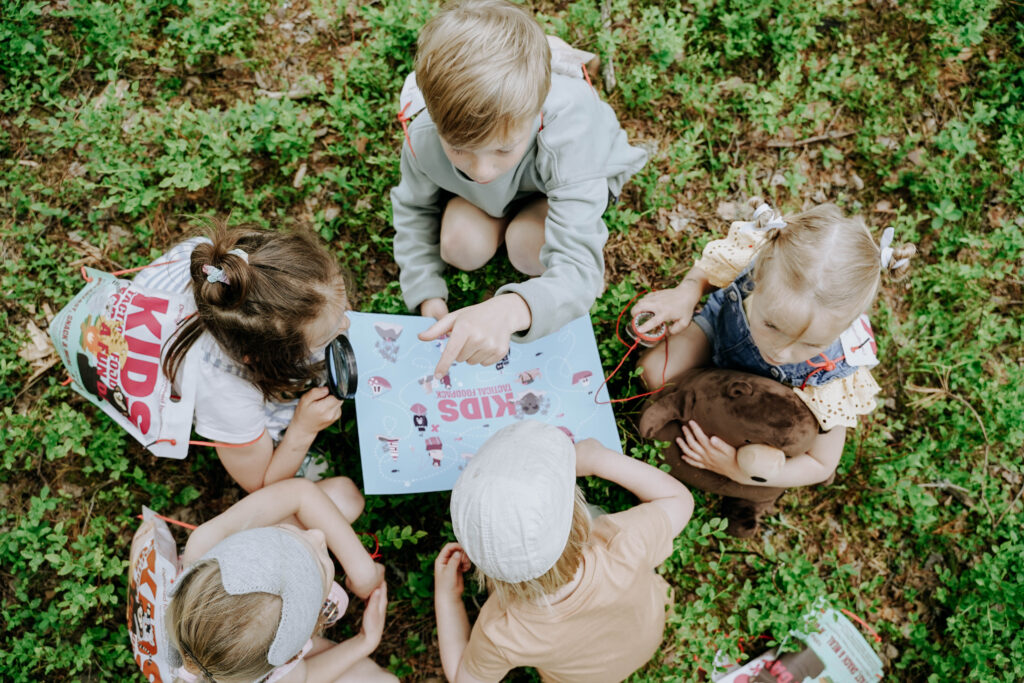 Hike with friends
If you're at all concerned about your kid's motivation on the trail, bring along a friend or a whole family of friends. If there's a dog thrown into the mix too, then all the better!
Responsibility
Everyone wants to be taken seriously and this also applies to children. Let the them carry some of the provisions or binoculars or some other equipmentthemselvesdepending on their age. Or give them a map or compass and let the children lead the hiking group. That can help the kids feel empowered – just make sure that the leadership rotates. By allowing the kids to lead, you can also make sure that the pace is slow enough so they can keep up. Also – the fact that they are trusted makes children proud and they learn in good time to take responsibility for themselves and others.
Fun and diversity
The best prerequisites for a successful family tour are diversity and good mood. Consider your trail options before heading out. Announce a treasure hunt or give them unexpected tasks along the way. Have them look for signs of wildlife (scat, bird holes in trees, fur) or count wildflower species and have them find things are bumpy, smelly, small, big, living, wet… just be and let your kids be creative!
Easy but feature-friendly
Select a hike that isn't too long or too strenuous – remember that for kids, the hike is about the experience. Picking a trail that has some features – be it a lake, stream, waterfall or something else will keep kids occupied and give them a goal to reach. And remember, it's about the journey not the destination. If your child is more interested in getting down on his or her hands and knees to explore the undergrowth, then that is the experience for the day – there will always be a next time.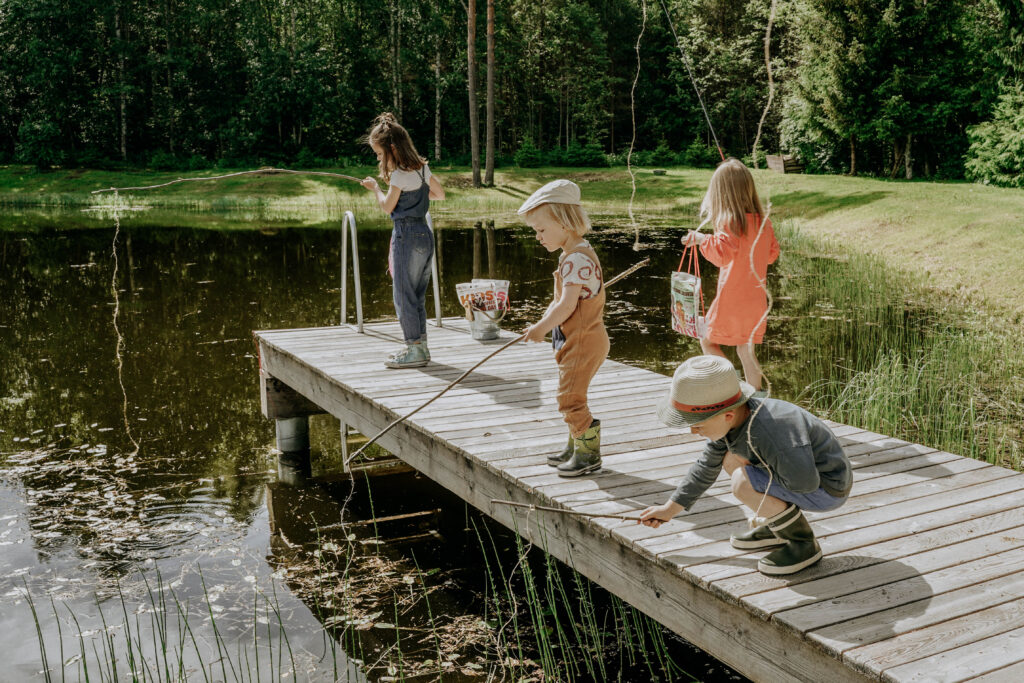 Enjoy the moment
Reaching the final destination isn't the most important thing. Focus on what it will take for everyone to be present and happy in the moment. Prepare alternative routes, just in case the weather, wind or even the mood call for a change of plans. And remember – it is much better to stop or turn around in time, instead of having a bad experience. That way, it's easier to preserve the magic of hiking.
Time planning
Remember – time is your friend. Kids are natural explorers and want to pick up and touch everything. This is one of the greatest things about hiking – there's so much of the natural world for kids to discover and examine – make sure they have time to get their wilderness fill.
Energy stops and snacks
HIKING WITH KIDS = LOTS (AND LOTS) OF SNACKS. This is unquestionably one of the most important tips for hiking with kids. If you run out of snacks or — heaven forbid — you bring the wrong snacks, your family hiking trip will quickly become a disaster. Although the KIDS combopack also includes a healthy fruit snack, we recommend letting your children make up their own snack mix before going on a hike. It's important to have fun on the hike, and bringing your own snack pack is definitely fun. And then bring some extra (healthy) snacks of your own. We guarantee they'll end up eating them all 🙂
Good memories
Let the kids take pictures on hikes. That is a great activity to help teach kids to appreciate nature while not destroying it by picking flowers, etc. But it is important to limit the time they get with their camera to keep them moving forward. You can even use the camera as a reward to get to certain points on the hike or distances.
Leave no trace
Kids are future stewards of our public lands, so we might as well begin teaching them how to take care of those spectacular wild places at a young age. When out on a hike, make sure that all of your trash is collected – KIDS plastic backpack will work well for this – when food is eaten, close the zip and put it back to the backpack (no leaking). At the end of the hike you can take away the strings for new purposes and through the all the rest to the packaging pin for recycling.
Hiking carriers
If you are just starting out hiking with a baby or toddler, get a good hiking carrier that's comfortable for long stretches of time. Hiking baby carriers are worth it because they free up your hands and are specifically designed to comfortably carry the weight of a baby or toddler for long periods of time.
Adjustable strings
If the KIDS backpack strings are too long for your kids, tie the bottom strings together at the top of the belly, or make new, longer knots at the ends of the strings.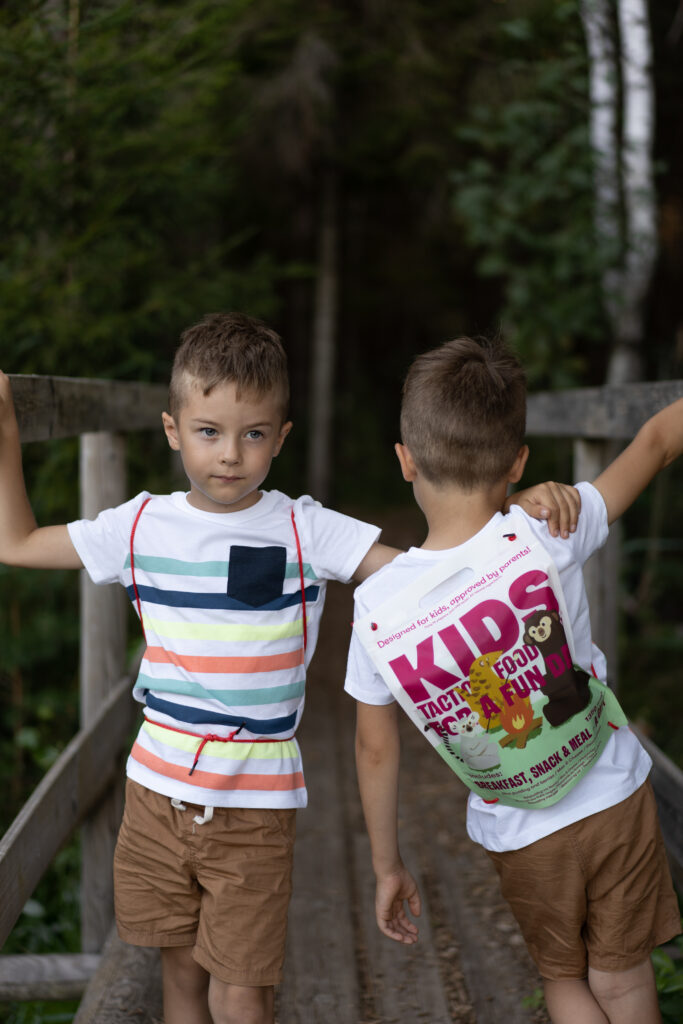 The strings can also be used for making various knots; here are some examples: