It is the month of June 2022 in Innsbruck, Austria, where Celina and I had just finished our studies. The big question was: what now? Sure, we want to do some more studying but definitely not starting directly in the fall of the same year. Rather, we wanted to take a year off and immerse ourselves in this other profound passion of ours: Being in the mountains, skiing, splitboarding, exploring. We wanted to see new places, use the skills that we had learned so far, and expand our horizon. While not knowing how exactly this year will play out, we figured why not trust the unknown and travel to a country that is completely new to us and see what we find? That's exactly what we did. Thus, in the first week of September we packed our bags and our gear, hopped on a flight, and together with our skis, tent, glacier equipment, and freeze-dried food by Tactical Foodpack for over 20 days of adventure, we landed early in the morning at Santiago Airport, Chile.
From there we got a ride into Cajon del Maipo and got to do a little self-assessment of our Spanish skills. As very few people speak good English, speaking Spanish is kind of a must-have if you travel in Chile. The car ride, therefore, turned into a little Spanish lesson and Celina quickly got back into it. Vocabulary searching with hand descriptions included. Cajon del Maipo is a part of the Central Andes that local legend Raimundo de Andraca claims to be "El paraíso", because of its endless potential for steep skiing in big mountains. On the drive up we began to see the dimensions of the mountains surrounding us with countless ridges and deep valleys. Way up the mountains we could even see the snow line coming closer.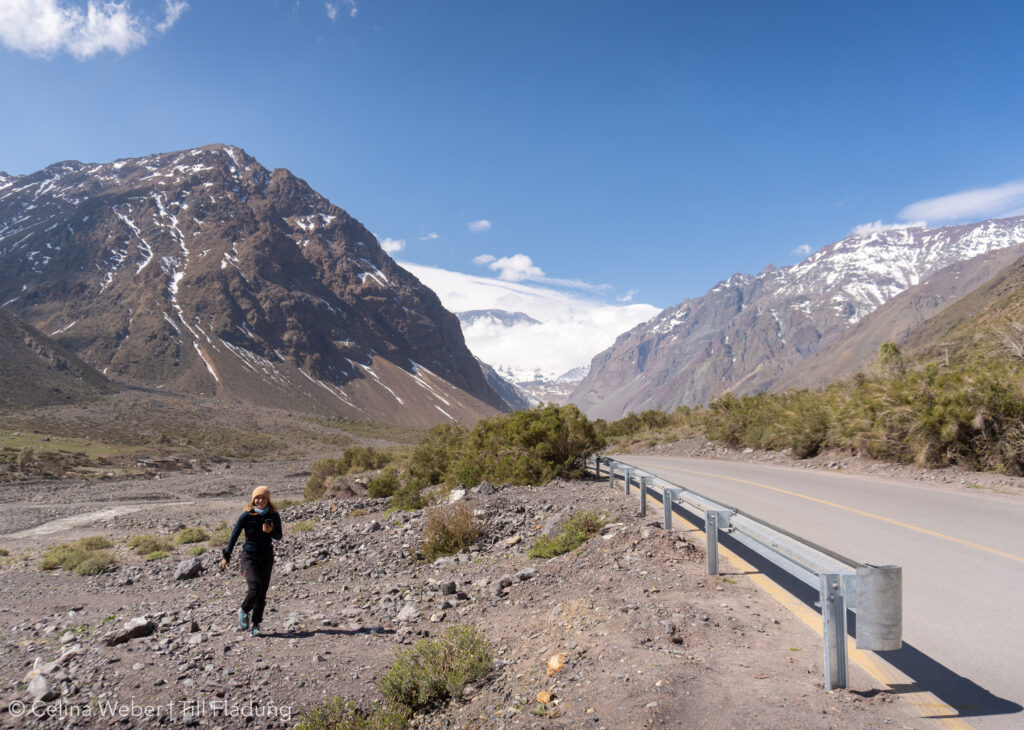 Still far away from it, we landed in a tiny village called Baños Morales. We settled into one of the 50 houses built from wood, stone and whatever material was available for the locals during the build. The next two days were spent getting a first glimpse of the place we had landed in including hopping over fences, crossing rivers, a snowstorm, and making our first turns in fresh snow. What was planned to be a little scouting tour in the Arenas Valley turned out to be a 10 hour mission with us coming back exhausted but super happy in the dark.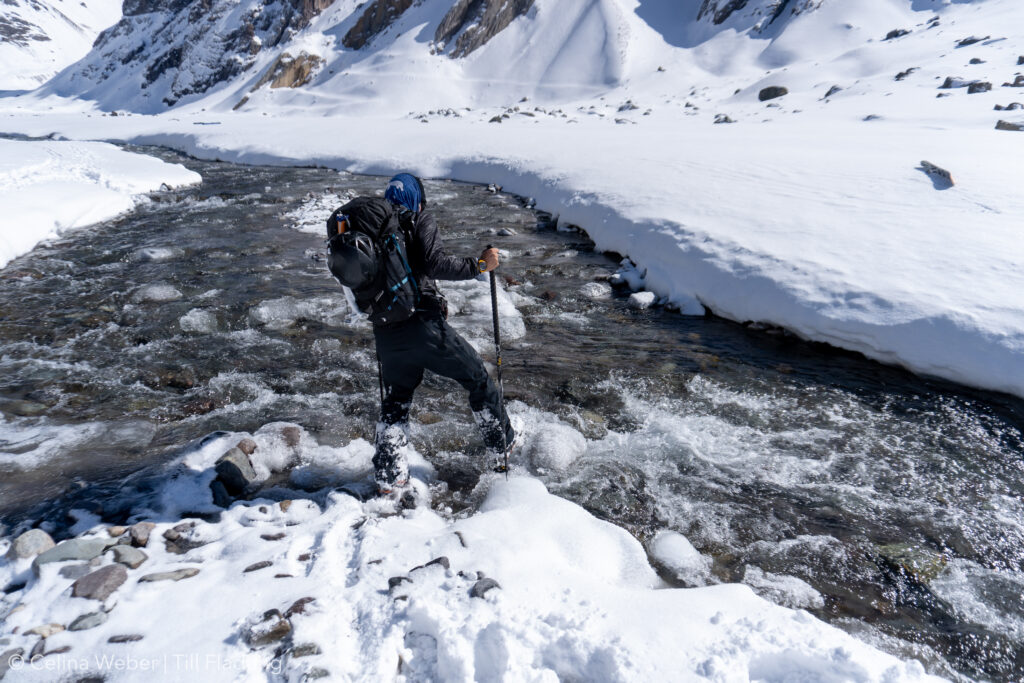 This gave us a real feel for the mountains and after talking to Raimundo we decided to fill up our backpacks with a lot of foodpacks and our mountaineering equipment. The plan was to set up basecamp in front of Marmolejo, the southernmost 6000 meter peak of the Andes. Our plan was not to summit, but rather to ski the beautiful lines surrounding this mountain. After "only" a day of walking we reached our camp spot surrounded by glaciers and massive peaks. One mountain that caught our eyes immediately was the so-called Punta Pakistani. A hanging glacier crowning a 700 meter cliff, the peak caught the clouds in the sky way above us as we approached our camp spot.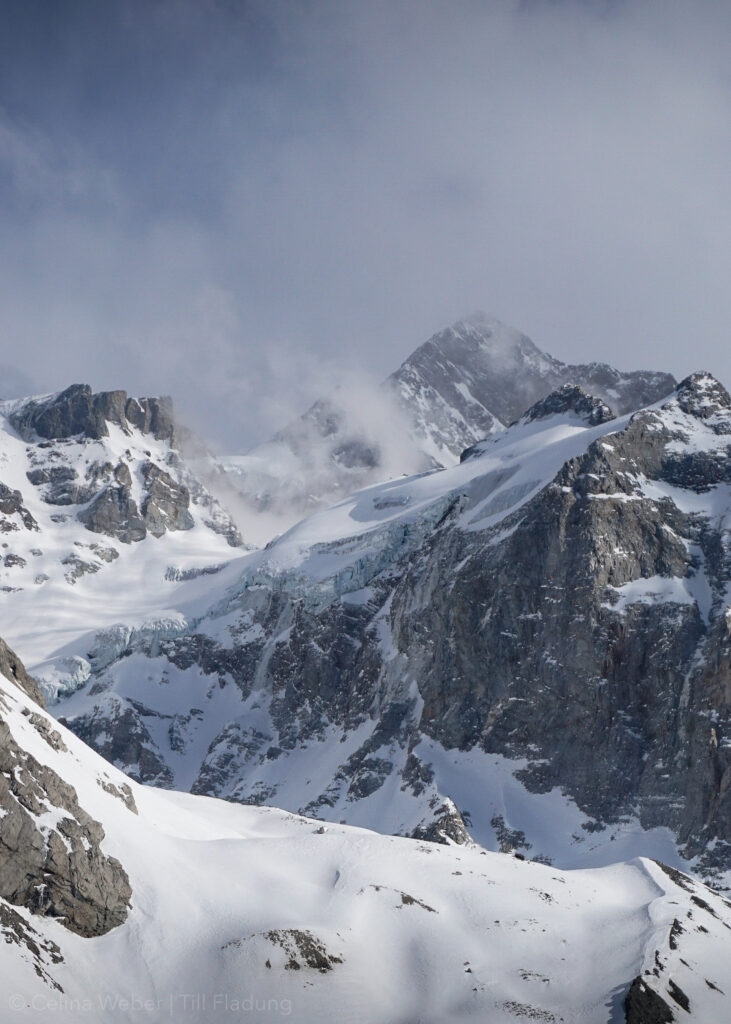 Before trying to ski this mountain, we first needed to acclimatize which is why we spent the next two days skiing corn snow, perfecting the snow wall around our tent, and looking for a safe route up to Punta Pakistani. After a really cold night in our tents and rice pudding with berries for breakfast we started touring before sunrise on day four. While walking to the mountain, we watched it catch the first rays of sun and I got a strong feeling, that this is the right day, and that we are meant to be here. The crevasses on the glacier were filled with snow since the Andes mountains had a good winter. This made the way up easier than expected, even though the lack of oxygen in the air slowed us down.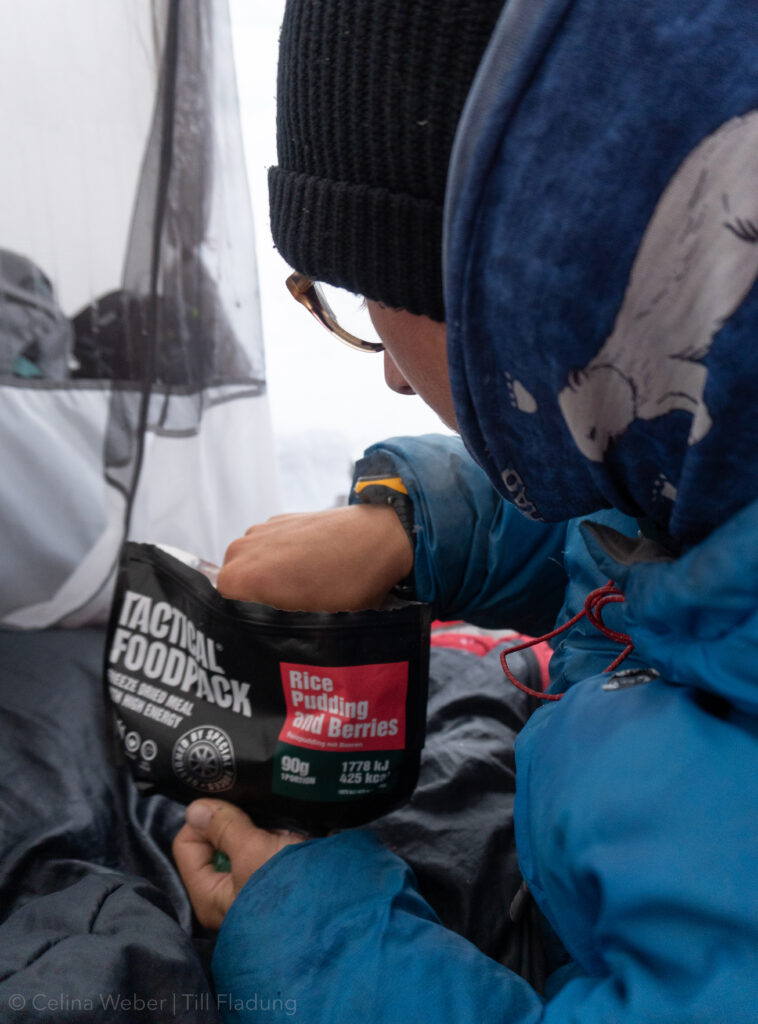 Half way up the mountain we had three options, go to the right summit, continue to the left in direction to Cerro Cortadores or go straight to the col in front of us. Because the snow looked really good going straight and hard for the two other options, we decided on option three and soon found ourselves boot packing in hip deep snow next to a wall of seracs. Topping out on the ridge felt like a relief. Now we were there. Exactly where we wanted to be. Surrounded by big glaciers, steep rockfaces and powdery snow. Speechless by the beauty of our surroundings we took a lunch break soaking up the energy of these big mountains. It was the first real bliss moment as we had to work quite hard to get there.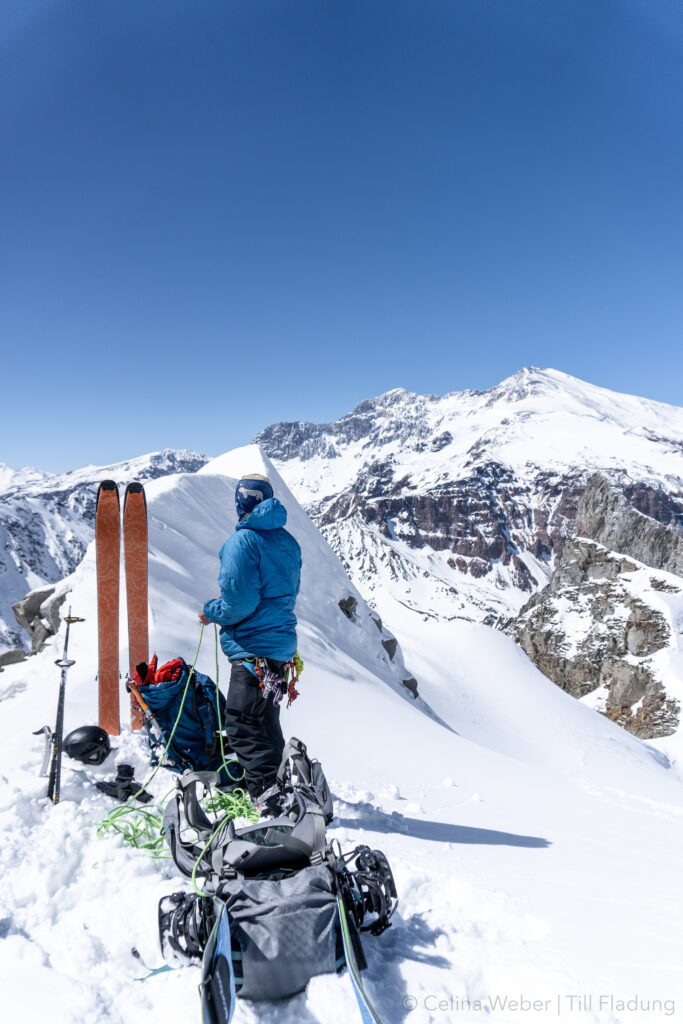 Then it was time to strap into our skis and snowboard and enjoy the descent. The first slope was filled with powder and I felt so happy while watching Celina ride down with big turns. Hearing her screams of joy from below in the silence of the mountains. Then the drone was up in the air, it was my turn to ride and damn it felt good. After walking and looking up the line for days, now, feeling the soft snow and wind while flying down between ice and cliffs. More than happy we shared the remaining slopes down to our basecamp. There, we cooked some food, dried our boots and enjoyed the afternoon sun looking back at Punta Pakistani.
The next day was the last day of our weather window and we still had a far way back to civilization in front of us. However we did not want to leave this Valley without skiing one more line. So we woke up early, had some Mediterranean Shakshukka and skinned into the sunrise, right to a beautiful ramp that we saw from basecamp. We called it la Rampa as we could not figure out the name of the mountain. At the bottom of la Rampa, we switched to crampons and had an easy bootpack to the top. Yet again, the dimensions here tricked us and the bootpack turned out to be longer than expected. But after being acclimatized by now and way more fit than the previous days we made good progress. The snow was much harder than the day before due to some wind, but the descent was still good.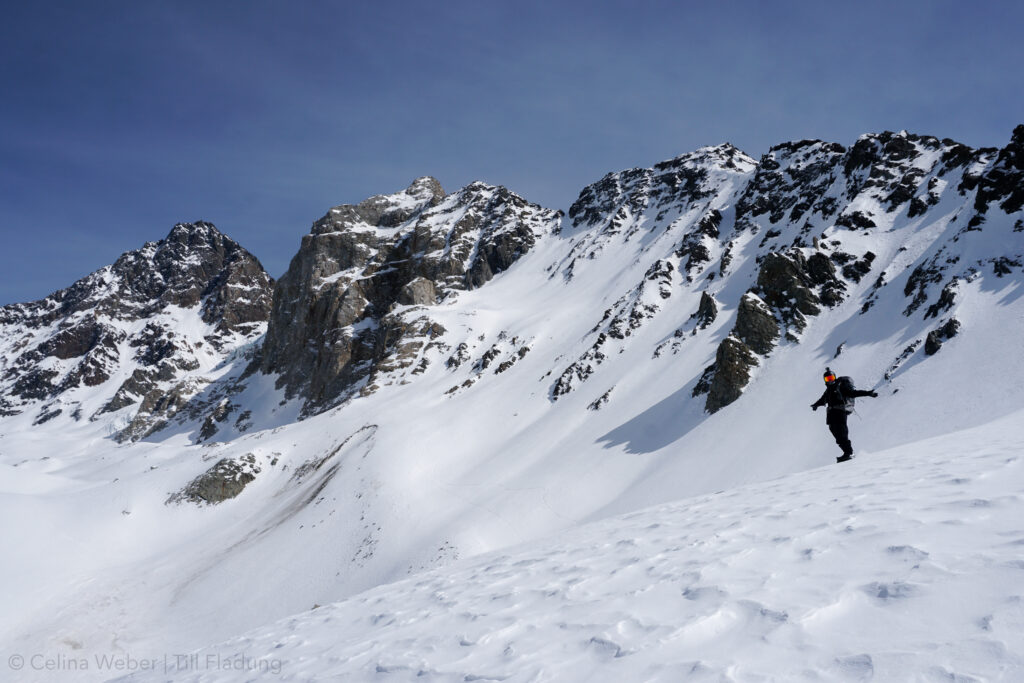 Long and sustained we drew our lines in the untouched snow before packing up our camp and skiing out of the valley. Thanks to a long traverse that Celina managed in ski mode (for anyone that is not familiar with splitboarding: it sucks!) we could avoid skinning up again. On top of that, we then had a perfect corn snow descent which was followed by a walk over a long flat part towards the end of the valley, then carrying our skis for an hour, walking to the main road, and hitchhiking back to Banos Morales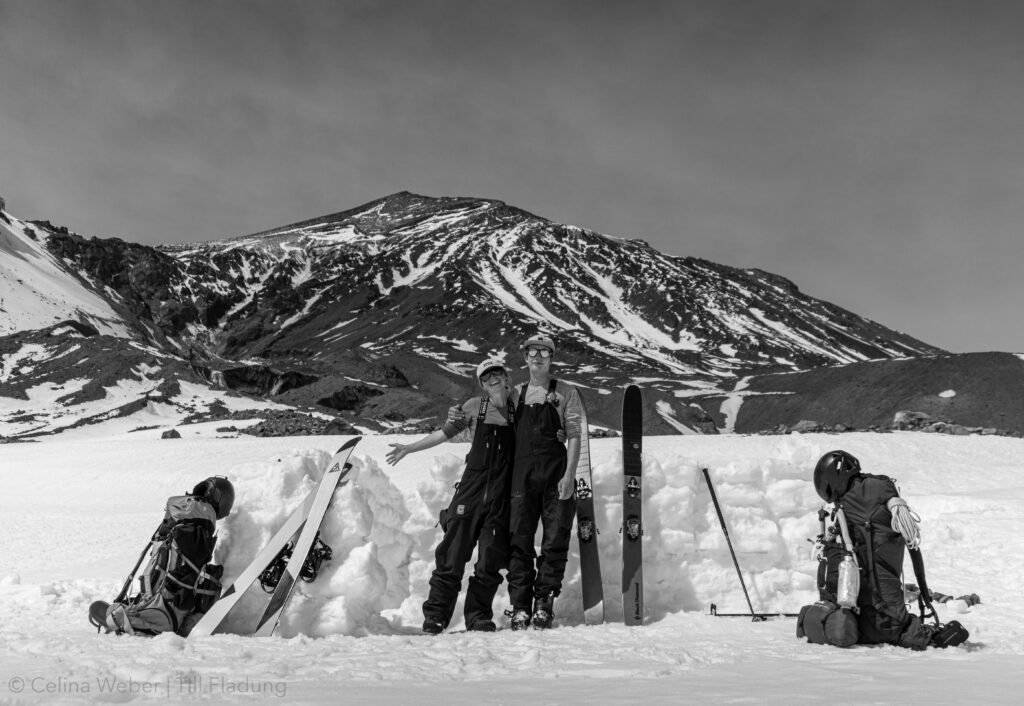 Endlessly tired and happy, we treated ourselves to some Empanadas and Papas Fritas before falling into our bed and a deep, heavenly sleep until the next day.
Then it was time to plan our next adventure and next destination…
To find out what happened next, check out our blog posts about our adventures in Araucanía and Patagonia !
BIG Thank you to all of our partners:
Ski & Splitboard Climbing Skins: Contour Skins | Instagram: @contour_skins
The best freeze-dried food ever: Tactical Foodpack | Instagram: @tacticalfoodpack
Celina would also like to thank her partners for the essential gear for our missions:
Nitro Snowboards | Instagram: @nitrousa @nitrosnowboards.austria
Delayon Eyewear | Instagram: @delayoneyewear
L1 Premium Goods | Instagram: @l1_premium_goods
SIGG Switzerland | Instagram: @siggswitzerland
Written by Till Fladung
Go and follow Celina's adventures in the mountains around the world on Instagram! IG: @_celinaweber