Although many of us start dreaming about spring in February, our fellow Estonian hikers Kätlin Nedo and Hans Markus Antson decided to take a polar hike instead. They spent 15 days in Riisitunturi National Park in Lapland. Before the hot summer arrives, let's take one ice cold imaginary dip with Hans and Kätu. The hiking couple shared their magical adventure and most important winter hiking tips. Get the inspiration and tricks to plan your winter adventure ahead!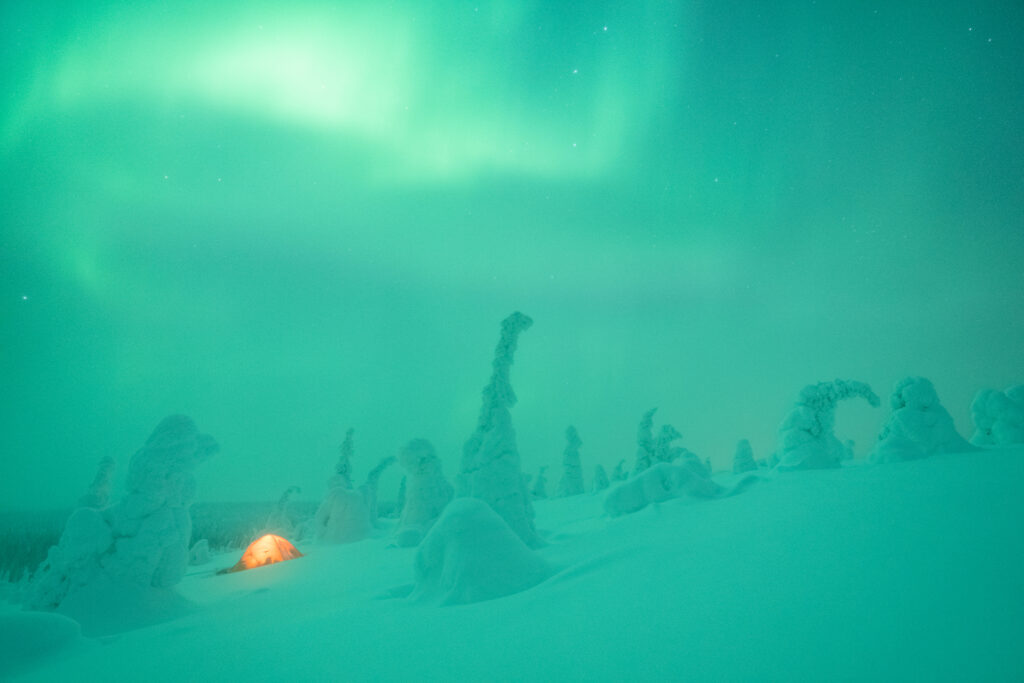 HANS: Winter hiking is not much different from hiking in summer, because a lot of actions are similar. But it is still important to plan more carefully, because being in extreme conditions can have way more serious consequences.
Dress accordingly!
You need to be warm before you go to the sleeping bag!
Warm sleeping bag is not enough, cold air must be insulated from the ground with a good mattress!
Eat high calorie foods, so your body will have energy to burn and it won't be cold!
From idea to Lapland in 2 weeks
HANS: I have been dreaming of visiting this area for almost 10 years now, when I first saw photos of other Estonian nature photographers of trees groaning under the weight of snow. Together with Kätlin we have also been talking about going to Lapland for at least three years. However, the idea of ​​this winter trip came very impromptu. We had to go on a winter trip to Estonia, but there was practically no snow in the selected area. Then Kätu proposed to go to Lapland, so two weeks later we found ourselves among the snowy spruces!
KÄTU: Personally, before the trip, I couldn't quite imagine what this life would look like and how I would cope with the cold. At the same time, there were no fears, because we had spent nights in a tent in the winter without any problems. But yes, it's something else to live in the cold outdoors 24/7 without being able to warm up inside a room.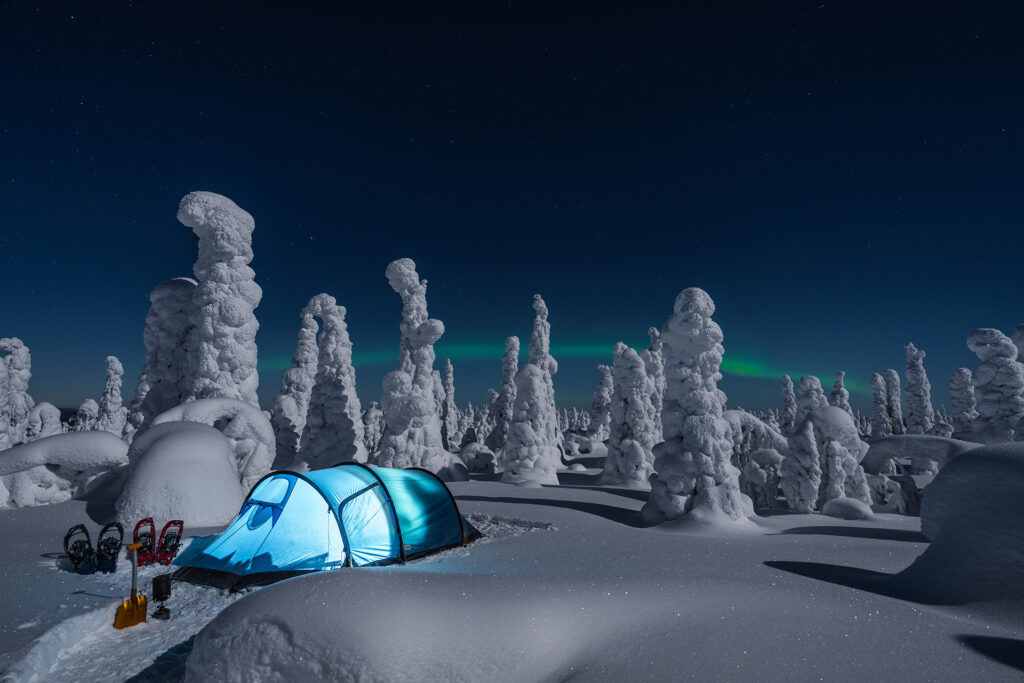 First northern lights and neck deep in snow
HANS: The first day already offered us real polar degrees (it was down to -24C at night), a beautiful sunset and northern lights at night. Then we had a week and a half of cloudy weather and three clear nights at the end of the trip. Two of them had very strong northern lights and both times they were up all night and I could do the photographing.

KÄTU: This winter hike for us was really in the most extreme weather conditions we'd ever been before. Starting from the thick snow, in some places up to our neck. Fortunately, we did not sink into the snow, because we had snowshoes, which kept us up on the snow quite nicely. The cold temperatures of the first night of the trip made the beginning of our adventure really extreme. The daily degrees fluctuated from -10C to -26C.
But in addition to the cold, we also had to deal with wind and humidity, because Riisitunturi is known for its large hills. Due to these conditions, all the trees are under a thick layer of snow and ice. It was the most powerful sight I have ever seen! Speaking of this incredible beauty, I saw my first northern lights in Lapland! But they were pretty modest compared to what we saw the next few days, so powerful and wonderful!
Special ordinary routines
HANS: Since you give up all amenities while hiking, it is important to take care of your basic needs, which are anyhow filling your days. It could be said that hiking is a routine, because same actions have to be repeated daily:

1. When I wake up in the morning, I boil water from the snow and make porridge. Then we'll have breakfast.
2. Kätu packs the sleeping bags and mats together. We assemble the tent and pack the sleds.
3. We hike to a new area with snowshoes.
We didn't count the kilometers on this trip and spent less time hiking, because the views were so beautiful and there were only 6 hours of daylight. I also wanted to use that time for photography. We also made vlogs about the trip, where we shared travel tips, so we needed daylight to film vlogs and videos.
5. When we get to a new place, we set up a tent.
6. I tidy up the bedroom and I boil drinking water and water for lunch/dinner at the same time. Boiling water from snow is an extremely time consuming activity and takes a lot of time.
Of course, there are other activities, such as taking lunch breaks and eating snacks. Capturing northern lights, sunrises and sunsets in clear weather.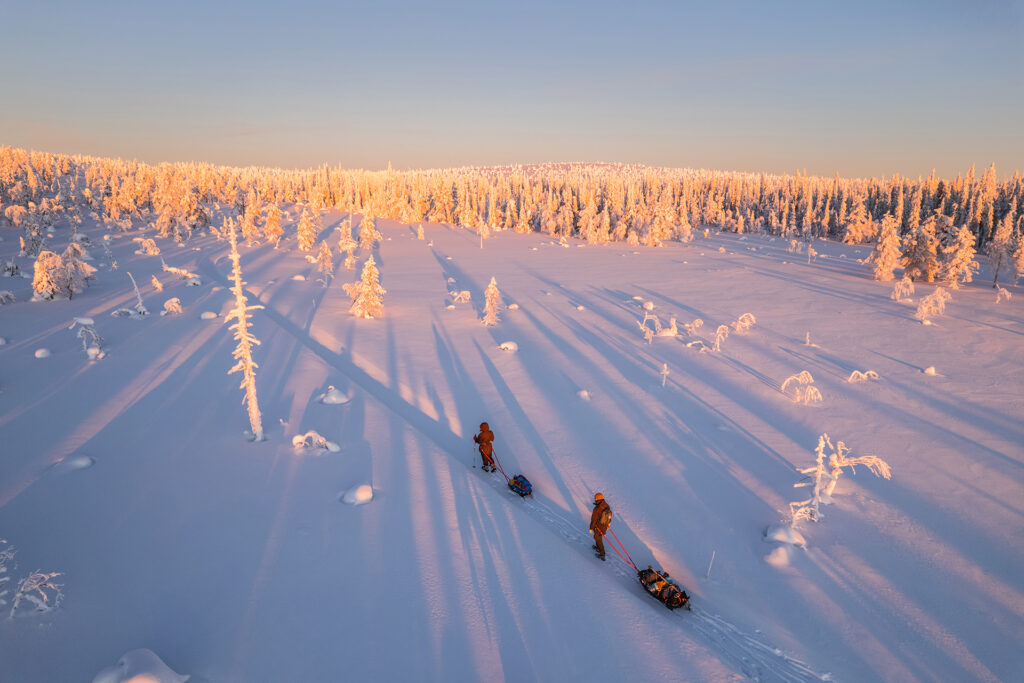 Good equipment is not enough
HANS: Good equipment is important for hiking (especially in such extreme conditions), but knowledge and skills to use your equipment are even more important.
KÄTU: We were properly prepared for the cold: layered weatherproof clothes, sleeping bags for -30 ° C, a 4-season tent and availability of warm food. And, of course, you have to have the willpower to do it.
HANS: In winter, it is often believed that the thickest clothes should be worn, but in fact it is important to dress according to the level of activity. When hiking, wear thinner clothing and wear warmer layers when standing still. It is important not to sweat, because then the clothes get wet and there is a risk of catching cold. It is not possible to dry the clothes very well.
If it gets a little cooler while standing still, but the warmest clothes are already on, you should move a little to get the body warm again.
KÄTU: Yes, warm clothes alone don't really keep you warm, you have to constantly think and act about how your body would be warm and the cold wouldn't sneak up. The most unpleasant part of the day for me was getting to the camping site and then changing into a thicker layer of clothing. If you have been hiking all day and finally stop, your body will start to feel cold pretty soon. Especially if you have been lightly sweating and the under layer is a bit damp, although in winter you just need to be careful not to sweat a lot. When you finally wear the warm layer, it already feels nicer, but you still have to keep your body working to not cool down.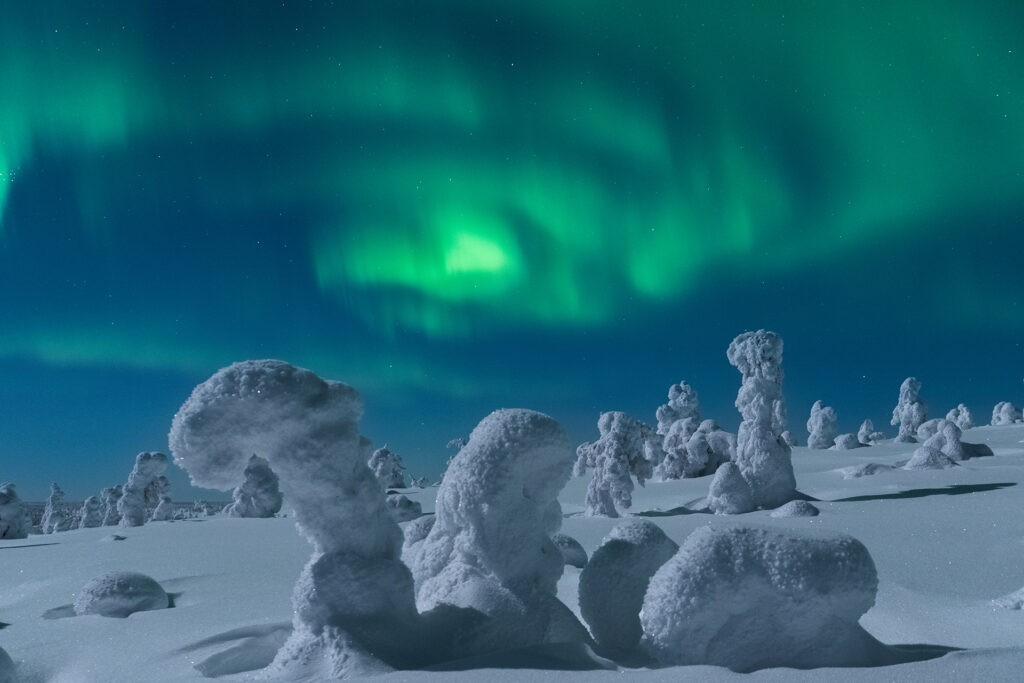 Against cold toes
HANS: We had -30C sleeping bags. But in order to be warm, in addition to a warm sleeping bag, you also need a good mattress/mat that insulates the cold air coming from the ground. If the mat underneath is poor, even the warmest sleeping bag will start to get cold. When sleeping in a sleeping bag, do not wear too much clothing, as this will leave no room for warm air in the sleeping bag. In general, a warm underwear of merino wool is enough or you can sleep completely naked. I have also slept in a -24C sleeping bag, I didn't have warm underwear and it was very warm, even a little too hot! The sleeping bag acts as a thermos, so likewise, a person has to warm up inside of the sleeping bag with his body heat. If you climb into a sleeping bag cold, it may not warm you. The same goes for a thermos – it keeps cold drink cold on a hot summer day and vice versa.
KÄTU: You can also hang around in your tent, for that purpose we have always climbed in a sleeping bag. We had really good sleep actually, perhaps it was the most enjoyable part of the day/night. You have to get into the sleeping bag when you are warm. So maybe run or jump a bit outside the tent and then go to the sleeping bag. Sleeping bags retain the heat of the human body. There were times when my toes could not warm up at all, then I had to jump out of the sleeping bag again and move around. I was also able to move my legs inside the sleeping bag, it could just take up to half an hour for the toes to be warm again.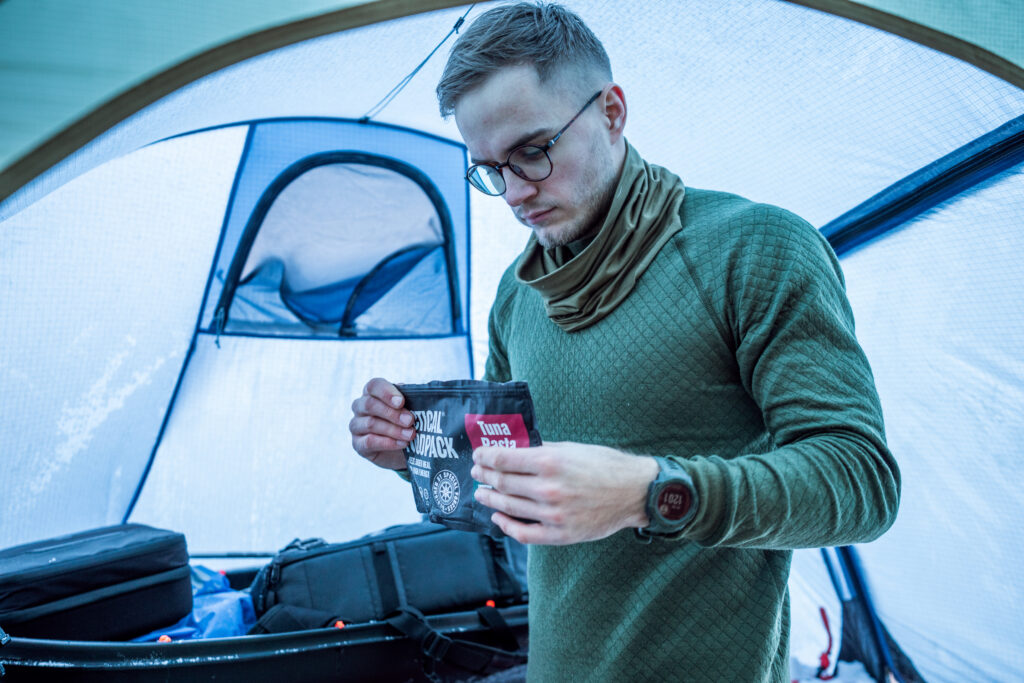 Hot tuna pasta in the openlands of Lapland
KÄTU: One very big source of feeling warm is hot food! We had high-calorie hiking food with us, it was so simple to pour on hot water and have a wonderful lunch and dinner. Eating is very important, because the body consumes much more energy in the cold than usual. So we always made sure our stomachs were full and we ate enough.HANS: If you eat properly, your body has fuel to burn and so you avoid freezing. Another advantage of special freeze-dried hiking food is the light weight package. So it is very easy to carry food for several days. It should also be mentioned that Tactical's meals are extremely delicious! Our favorite is definitely tuna pasta.
KÄTU: In short, you can cope with the cold, you just have to have the willpower to move constantly and keep your body working. Plus proper equipment and, of course, food that would warm and energize you.