Ever fantasized about seeing your all-time favorite dish featured in Tactical Foodpack's premium product range? Well, dream no more—this is your golden opportunity!
Send your receipes until 30th of August 2023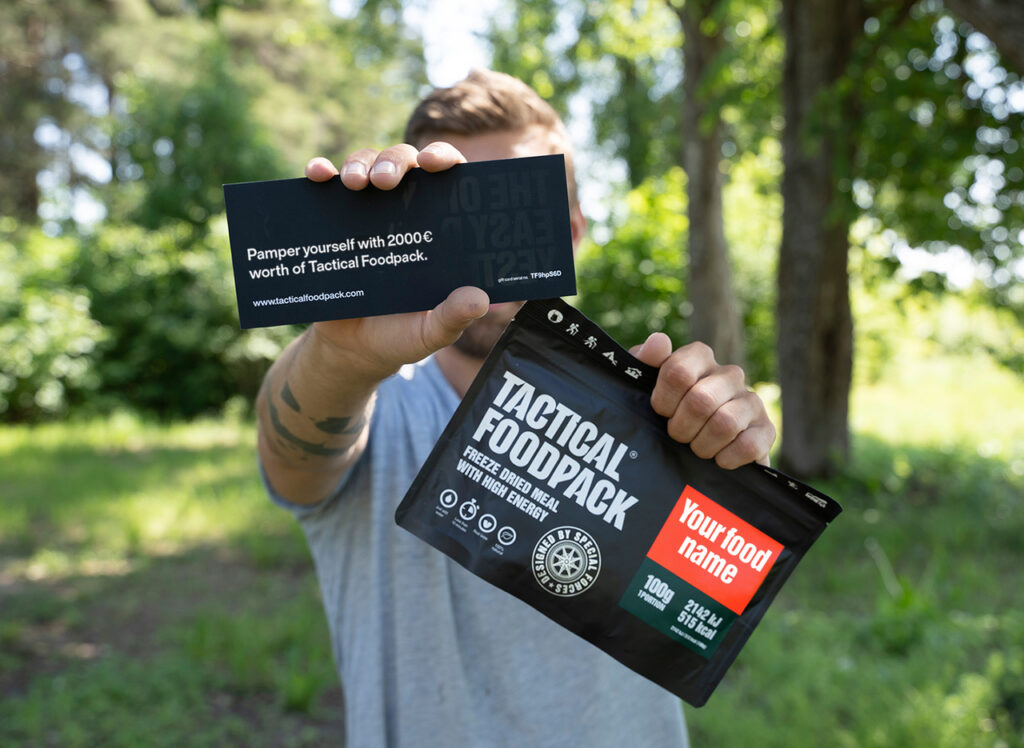 And what's in it for the champion, you ask?
Aside from eternal glory, their beloved recipe will join the prestigious Tactical Foodpack product range. We'll even include the story behind the winning dish, along with the name of its brilliant creator, in every package. But wait, there's more! The victor will also be rewarded with a jaw-dropping 2000€ gift card to indulge in a personal shopping spree at tacticalfoodpack.com, picking out their favorite meals, snacks, and drinks.
Wondering how we'll crown the victor?
Our esteemed jury will pick the top 5 recipes, which we'll then prepare exactly as instructed. We'll freeze-dry each dish, pack it into our signature pouches, and capture the authentic essence of outdoor dining. All 5 finalists will receive a generous supply of their meals delivered right to their doorstep (minimum 30 packs). Even if you don't emerge victorious, you'll still have a stash of delectable outdoor feasts to relish.
But that's not all! The ultimate decision lies in the hands of our loyal fans. We're turning to the Tactical Foodpack Instagram page to showcase the 5 finalists and invite our followers to participate in the grand tasting and selection process. We'll handpick 20 lucky individuals to receive all 5 meals, and they'll rate each dish based on specific criterias. The scores will be tallied, and voila—a winner will emerge!
Please note that all submissions must be received within the campaign duration to be eligible for consideration. We encourage participants to submit their recipes early to allow ample time for review and evaluation.
We're looking for breakfast, main course, dessert, or soup recipes that exclusively use pure ingredients—no shortcuts or pre-made mixes allowed! While we love your culinary genius, please avoid ingredients that aren't ideal for our freeze-drying technology, such as bread or pastry products (as pizza, quiche, tarts, pies etc) and alcohol. Please try to avoid large pieces of meat, such as whole chicken or steak. The maximum cut size of the meat should be 2×2 cm. However, if we find that this recipe is not suitable for freeze drying, we will contact you and kindly ask you to make some changes that won't compromise the final result and taste of your dish. Please ensure that your recipe is precise and includes every step of the cooking process.
If there are any specific notes or additional instructions that are crucial to the dish's success, please include those as well. Try to refrain from simply sending us a link to a recipe that catches your eye. What we truly value is your favourite recipe, one that you have personally prepared countless times. Therefore, we kindly request you to recreate it once more for our Tactical Foodpack recipe competition. It would be wonderful if you could also capture the process through pictures or a video. Visual aids will greatly enhance our understanding of your recipe and help ensure that if we recreate your dish, it will turn out as close to your original creation as possible. Additionally, do not forget to share the story behind why this dish holds a special place in your heart.
Is it your signature dish, your Grammy's meal, or your comfort food? Now, imagine enjoying it as your favorite outdoor meal.
Thanks for all the great recipes. No more recipes can be submitted for this time. The jury will now start its work and the 5 finalists will be announced on 30 September.